Professional Profile
Since 1965, Rich Nagaoka, a.k.a. "the Grape Doctor," has been providing expert service to the wine industry as a vineyard consultant specializing in viticultural production and wine grape research. Rich is also a licensed wine grape broker. From his office in the heart of the Napa Valley, the Grape Doctor is available to consult worldwide.
Nagaoka provides a broad array of viticultural consulting services: evaluations of potential vineyard sites; assessments of existing vineyards; redevelopment studies; vineyard architecture/design; vineyard development planning and scheduling; nutrition, pathology, and entomology investigations; autopsy testing and evaluation; and optimization of viticultural practices to improve wine grape fruit quality. With more than three decades of viticultural experience in the Napa Valley and other California growing regions, the Grape Doctor has expert answers for all of your viticultural questions.
Among Nagaoka's specialties is design and implementation of contract research specifically tailored to provide answers to practical vineyard problems. Examples include on-site studies of agricultural chemical efficacy and residues, rootstock evaluations, and the development of specific strategies to solve nutrition, disease, and pest problems. He has received research grants from the American Vineyard Foundation for rootstock evaluations and from Bayer, Dow AgroSciences, and Uniroyal for evaluations of chemical efficacy and residue profiles. He has published scientific research papers concerning various aspects of viticulture.
Nagaoka is also a licensed wine grape broker. Capitalizing on more than three decades of industry experience and family grape growing background, he locates markets for growers and satisfies vintners' requirements for high quality fruit. He welcomes inquiries from growers and vintners seeking to sell or purchase wine grapes whether on a spot basis or under long-term contract.
Nagaoka also provides expert testimony concerning viticultural matters, including crop loss, vine injury, irrigation requirements, and land usage.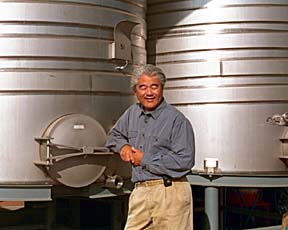 ---
Personal Background
Rich grew up on the family vineyard in Lodi, a small agricultural community in California's Central Valley. The vineyard was the family's sole livelihood, so all resources were committed to the production of the earliest, highest-quality fruit. The forty-acre vineyard produced Zinfandel, Carignane, and Verdhelo wine grapes for the Guild and Allied Growers' Co-operative Wineries, as well as Tokay table grapes for the fresh-pack market.
On the Nagaoka family farm, there was no such thing as passive farming, and all the family members contributed. Rich and his siblings worked in the vineyard after school, and during summers and holidays. No one lacked for a job. Even outside the busy harvest season, the family often worked from dawn into the night, whether during the hot summers when sulfur dusting coincided with round-the-clock irrigation, or when performing cultural operations like pruning, suckering, thinning, and leafing.
Rural Lodi life meant 4-H and Future Farmers of America, not swimming and tennis. In secondary school, Rich continued to study vocational agriculture along with the college prepatory curriculum. When his high school guidance counselor warned Rich that Fresno State University and the University of California at Davis would be very difficult programs, Rich took the warning as a challenge, and won admission to both institutions and a Wine Institute Scholarship that supported his undergraduate work at U.C. Davis.
Rich earned a degree in Viticulture and Plant Science at U.C. Davis in May 1965. Geared more to farm advising than to farming, Rich's plant physiology and enology coursework better prepared him for a career as a viticulturalist than as operator of the family farm. Rich therefore sought his first position in the wine industry soon after graduation. More than three decades later, he remains an enthusiastic viticulturalist, one whose skills and broad experience have made him well-known in the world of wine.
---
---