With more than three decades of viticultural experience in the Napa Valley and other California growing regions, Rich Nagaoka has expert answers for all of your viticultural questions. The Grape Doctor provides a broad selection of viticultural consulting services:
Rich doesn't favor guesswork in his viticultural practice. Instead, he completes a proper investigation – carefully assessing the soils, climate, varieties, cultural practices, etc. – before assembling the data and finally drawing conclusions. Where appropriate, Rich gathers input from additional experts, including engineers, geologists, pathologists, winemakers, and vineyard managers. He issues his recommendations in a Report Document that can be supplemented with an oral presentation.
Here is a more detailed breakdown of the consulting services provided by the Grape Doctor:
Evaluations of Potential Vineyard Sites for Owners and Prospective Purchasers.
Determine plantable acreage
Evaluate soils for classification, depth, structure, chemistry, fertility, drainage, pathogens, and nematodes
Estimate irrigation requirements
Investigate, test, and evaluate potential water sources
Assess the regional climate for varietal suitability, frost hazard, precipitation, heat summation
Investigate regional varietals and market conditions
Recommend a development plan
Vineyard Architecture/Design.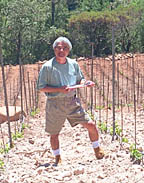 Identify the environmental resources of the site
Assess the soils, slope, solar, wind, drainage, and temperature systems that impact the vineyard
Quantify the acreage
Solicit opinions from successful local and regional vineyards managers, vintners,
engineers, and technologists
Apply the viticultural science, experiential, folk, and market cultures to the design of the vineyard
Execute a design of the most appropriate viticultural science to the environmental conditions
Coordinate execution of the design by vineyard management
Comprehensive Evaluations of Existing Vineyards.
Confirm planted acres
Validate varieties, rootstock
Assess yields, maturity, vintner contract/prices, wine style program
Investigate soil classification, depth, structure, chemistry, drainage, diseases, and pests
Assess rootstock and scion for virus or disease
Assess cultural practices
Discuss wines produced with vintners
Vineyard Development -- Planning and Scheduling.
Varietal and rootstock recommendation
Spacing
Trellising
Vine training
Block design by soils, slope
Propagation methods
Irrigation requirements and methods
Frost protection options
Assessment of pests and disease risk
Fumigation recommendation
Planting schedule
Estimate yields
Vineyard Redevelopment Studies.
Determine need to redevelop
Assess productivity, pests, or disease problems
Determine time line
Assess varietal supply and demand
Optimization of Viticultural Practices to Improve Wine Grape Fruit Quality.
Identification of problems and defects in wine quality, and determination of relationships to viticultural practices (varietal selection, site-specific environmental conditions, trellising, nutrition, irrigation, etc.)
Recommendation of remedial treatments and mitigation strategies
Recommendation of vineyard redevelopment plan where required
Will mediate relationship between vineyard owner/manager(s) and vintner (execution of timely harvest, pruning, irrigation, etc.)
Ongoing evaluation of fruit quality and resulting wine characteristics
Nutrition, Pathology, and Entomology Investigations.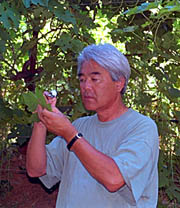 Diagnosis of visual symptoms
Plant tissue analysis
Soil analysis
Nutrient formulation and application methodology (rates, timing)
Design of experimental performance tests, and subsequent result measurement and efficacy analysis
Autopsy Testing and Evaluation.
Investigation of crop loss, vineyard decline, and vine death
Diagnosis by visual inspection, field research, testing, and lab assay
Recommendation of remedial treatments
Alternative mitigation strategies – alteration of cultural practices including use of biologicals and other organic strategies, environmental modifications
Field triage and emergency field actions
Long-term field testing and research grant studies
Contract Research and Efficacy/Residue Studies.
Troubleshoot and identify unresolved questions, environmental impacts, and research projects
Formulate an appropriate methodology to address the question
Design the scientific methods and identify goals of the research
Apply for grant funding and submit funding proposal
Identify and secure appropriate research sites -- vineyards, orchards
Apply for any necessary permits and research authorizations
Oversee cooperative relations among regulatory agencies, funding entity, and ownership
Select replications, experimental units, and methodology
Label and map replicates, sub-plots, and individuals
Calculate dilutions, concentrations, methods, and materials
File notice of intent to apply materials to regulatory agencies
Apply timely treatments
Record and maintain appropriate documentation in compliance with standard operating procedures
Conduct post-treatment evaluations, and quantify and record readings
Evaluate and report results
Note: Research studies have included assessments of nematicides, fungicides, growth regulators, nutrition, and cultural practices.
Note: Clients have included Dow AgroSciences, Mycogen, Elanco, Unocal, and Zeneca
Expert Legal Testimony.
Expert legal testimony is provided on subjects including:
Property condemnation
Grape purchase agreements
Irrigation issues and annual water use estimates
Vineyard soil and water suitability
Crop loss from off-site drift
Safe agricultural spray practices
Pest and disease effects on vineyard productivity and longevity
Determination of reasonable yields by variety, region, and soils
Effects of vineyard cultural production practices on the environment
Note: Clients have included CalTrans, California Dept. of Water Resources, Coldwell Banker, and the Sonoma County Sanitation District
Vineyard Administration for Absentee Owners.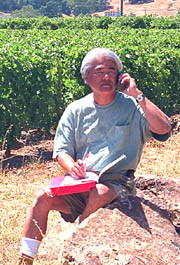 Ongoing evaluation of all aspects of vineyard operation to protect and advance owner's interests
Hiring and supervision of vineyard managers
Assessments of the impacts of pests, weather, and other environmental circumstances on vineyard health, crop quality, and vine longevity
Identification of appropriate vintners for sale of crop, on basis of price and prestige impact on vineyard valuation
Marketing of the crop
Liaison with other service providers including CPAs, attorneys, architects, surveyors, and engineers
Provision of regular full reports to absentee owner
Note: Clients have included Clark Ranch Vineyards (Glen Ellen, Sonoma County), Villa Mille Rosa (Oakville Appellation, Napa County), Valentine Vineyards (St. Helena, Napa County), and B/A-Oreo Vineyards (Healdsburg, Sonoma County)